Aromatherapy candles can emit fragrance when burning, which can soothe nerves and purify air. Generally, aromatherapy candles can be used up in half a month if they are often used.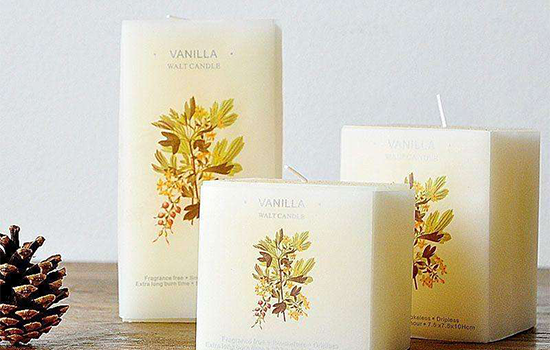 How long can an aromatherapy candle last?
How long an aromatherapy candle can be used is uncertain, depending on the material, volume, weight, wick thickness and other factors, in addition to environmental factors will affect the results of use. So it can be seen that the burning time of each candle is different.
The Material of Aromatherapy Candle Affects Burning Time
The most common candle material on the market is paraffin wax, but the better brand of aromatherapy candle will generally choose soybean wax, beeswax and other plant wax. The purity requirement of paraffin material is relatively high, and the burning time of soybean wax is more complete than that of paraffin. The burning time of soybean wax is totally different from that of paraffin wax. And paraffin will burn because of poor purity and produce black smoke, which is harmful to human body.
The wick of aromatherapy candle affects the burning time
The thickness of candle wick also affects the burning time of aromatherapy candles. The thicker wick burns slowly, while the thinner wick burns fast and breaks easily. The most commonly used candle wick specification on the market is 2.5mm diameter. When the candle wick burns, the flame size of this specification is moderate, which can ensure the normal burning of candles and is not easy to extinguish, and the consumption of candles is relatively small. According to the experiment, the soybean candle with a diameter of 2.5mm consumes about 5 grams of wax per hour of burning.
Environmental Factors Affect Combustion Time
In addition to the material and specifications of the aromatherapy candle itself, whether there is wind in the use environment is also a major consideration. The rapid flow of air will cause the flame of the candle to shake and accelerate the melting of the wax oil. To slow down the burning speed of aromatherapy candles, it is possible to use windproof cups or temporarily close doors and windows.
Can aromatherapy candles remove formaldehyde?
No, aromatherapy candles can only temporarily mask the odor of formaldehyde, but can not completely remove formaldehyde. Indoor formaldehyde volatilization time is longer, usually about three to ten years. Aromatherapy candles smoke for up to 4 hours at a time, so it is impossible to remove formaldehyde by aromatherapy candles.
What is the effect of aromatherapy candles?
Aromatherapy candles belong to a kind of craft candles. Unlike ordinary candles, aromatherapy candles have better appearance and fragrance when burning. Contains natural plant essential oils, while emitting fragrance, it also has the functions of relaxing nerves, purifying air and eliminating odor.
How long does an aromatherapy candle last?
Aromatherapy candles usually burn for three to four hours. Aromatherapy candles can burn for three to four hours at a time, which is enough to make aromatherapy candles form beautiful wax pools and make their fragrance strong enough. Aromatherapy candles burn for too long, the fragrance will be more and more strong, the nose smells too much is not good.
Burning time of aromatherapy candles for the first time
Aromatherapy candles must be burned for at least one hour at the first use, and then extinguished after burning out a flat wax tank. In this way, the candles will burn smoothly and there will be no ugly tunnel phenomenon. The aromatherapy candle of tunnel phenomenon is also a waste to some extent.
Finish in half a year
When you start using aromatherapy candles, it is better to light them one after another within half a year after opening to avoid volatilization of essential oil components, aromatherapy is no longer fragrant.~